When we speak to potential customers for the first time, there's something that frequently happens… they become surprised at how fast we can complete home exterior projects. We know that while you may be excited for new siding, windows, roofing, gutters or doors, you want the work completed and for life to return to its usual pace. That's why we make it a priority to work quickly and effectively to ensure our customers not only receive exceptional service and products, but they do so surprisingly fast.
Here are some completion timeframes O.C. Taylor strives to achieve: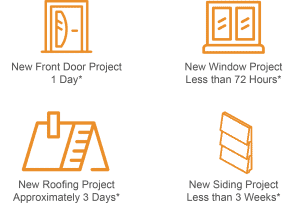 Our team likes to keep things simple. We deliver amazing products with exceptional service without wasting time. Simple as that. Contact us today to see how we can deliver smart exterior solutions to your home.
* Average Completion Times