In general, siding is a protective material that's attached to your home's exterior. Siding is just one vital Smart Exterior Solution that helps to defend your home against weather, impacts and other intrusive elements, such as pesky insects. Siding also adds incredible curb appeal and can help you express your personal style through the many materials, textures and colors you choose. 
You can learn more about the various types of siding here. Plus, check out these tips on how to choose colors that reflect your tastes here.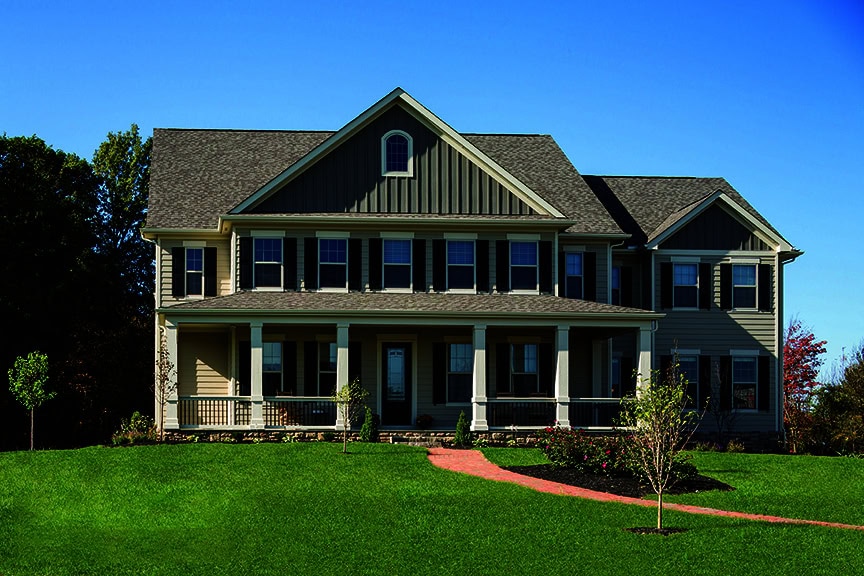 Board And Batten Siding

Board and batten siding, also known as "barn siding", was once typically used for outbuildings like barns and sheds. A "batten" is a thin strip of wood molding that's placed over the seams of panel boards. This technique helped to stop the outside elements from coming in through the building's joints. Farm animals kept warm through harsh winters this way.  
Today, this look is surging in popularity for homes, mostly due to the Modern Farmhouse trend. The result is a rustic yet chic aesthetic. The strong vertical lines create shadows and textures, providing character and a cozy warmth to your home. 
Board and batten is typically wood, but it can be made from vinyl, fiber cement or steel. However, when it comes to durability, engineered wood siding is a smarter buy compared to solid wood siding. It mimics the looks, but features greater durability and easier maintenance. 
Lap Siding

Lap siding is what most people think of when thinking about siding — horizontal strips of siding material layered over one another. While this is what is commonly seen on a home, it actually has quite a bit of flexibility when it comes to style and color. 
TIP: If you're thinking about replacing your siding, you don't have to use the same material to replace what you had. There are many Smart Exterior Solutions that might be right for your home. If your home is 20 years or older, you could have siding that should be replaced. Check your home's siding for the warning signs of failure or other issues. Don't hesitate to call me for a home inspection and no-obligation quote.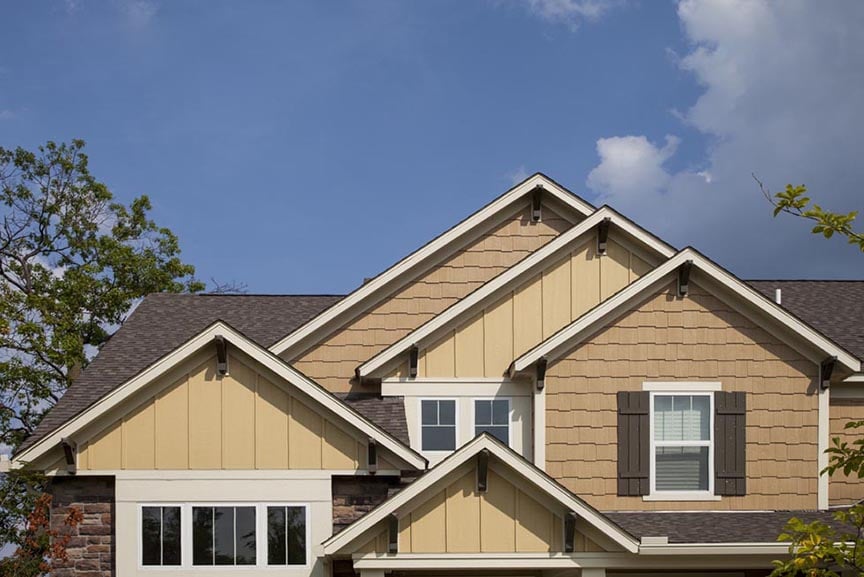 Cedar Texture Shakes Siding

If you're looking for ways to bring interest and variety to your home's façade, cedar texture shakes siding could be the way to go. Often used for areas such as gables on the home, cedar texture shakes siding has shiplap ends for installation guidance. It can also be installed with staggered or straight edge exposed.
You can visualize what your home could look like with the LP® SmartSide® Visualizer. Pick your style and choose your colors. This tool lets you explore what you can achieve with different exterior siding options. 
Call me for a free quote. If you decide to reside but still have questions about color, I can have my color experts help you select the perfect combinations that will beautify your home and reflect your style.